Good shoes bring you to good places - there are no shoes fit everywhere.
Sometimes there are alleys that catch my attention. It is fun to just wander around and see interesting spaces following my footsteps. 'Parlour' is one of the places that I met by chance. 'Barbershop' is well-known select shop among the people who like fashion. And in 2015, the professional shoes select shop, 'Parlour' was launched as a brother brand of the Barbershop. Last March, Barbershop moved from Nuhadong to Changseongdong and has continued its activities in Seochon. At Parlour, you can try and buy various brands from the famous ones such as Alden and Berwick to special brands that you can find only at Parlour like Vass Shoes. I would like to listen carefully to the story of Parlour, an interesting combination of Hanok and shoes, and the details they suggest based on their own criteria.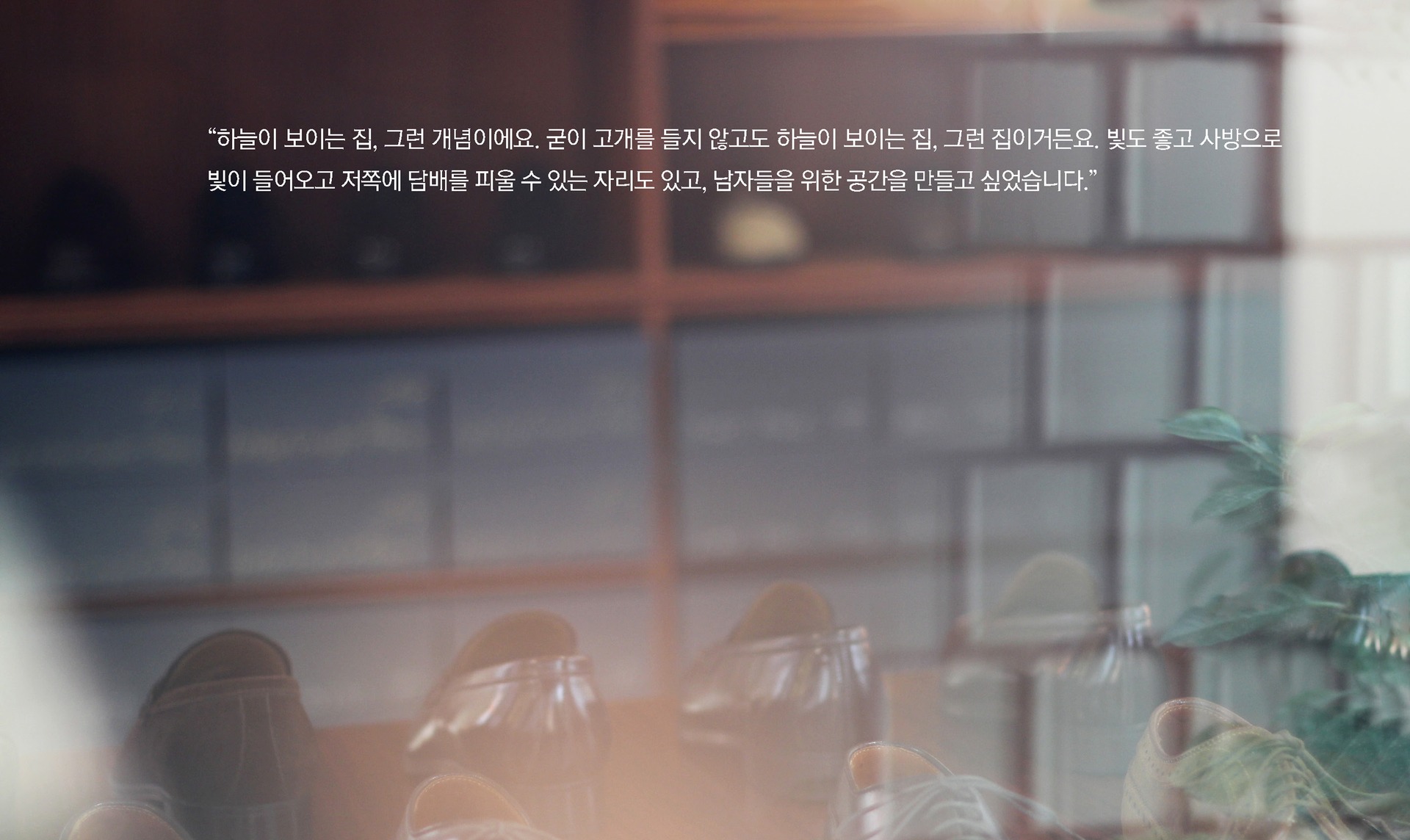 Q1. I wonder how you started Parlour.
"The Barbershop has been 9 years. It's a 'conceptual store', where I choose the concept and select the products accordingly. There are no brands staying longer than 3 years since the trend is changing too fast and so are we. We run the select shop trying not to lose the concept even though numerous brands are getting replaced in it. Many other shops have changed their concepts. Parlour started in that kind of situation. We had to find a new way, but didn't want to lose the concept.
I've liked shoes very much. The classic style shoes which has different production method, the old styles. I started buying from abroad even before it became popular. At that time, there was almost no online website. What I did was I sent an email to the headquarter of the company that was selling the shoes I liked. That's how I started to get into shoes. I actually opened the Barbershop from the interest of shoes, and then I opened the Parlour."
Q2. I would like to ask why you named it Parlour.
"There is a cafe named 'Nakrang Para' in Yeonnamdong. Nakrang (樂浪) is Chinese word and Para is Parlour written in Chinese style as it sounds like. Parlour means a sort of shop in the US and a detached house or drawing room in The UK. But I want to call it as 'Sarangbang' (reception room in Korean traditional house)."
"Department stores would be easier to access and provide better service but I think Parlour has some aspects that people can't enjoy there. In a quiet place, try every shoes you want, get professional service and I can provide some tea like now, or even you can smoke here. There are not many places like this especially for men. I wanted to build one.
Now, I cleaned up all the alcohols but I used to treat some drinks as well before. I removed them all because Koreans are not that relaxed and they tend to be shy. Well that's how I named Parlour."
Q3. It's quite a new combination, Hanok and Shoes. How did you come up with that?
"The concept of the shoe store I decided to have was like this. I would only choose the brands that are not searched in Naver. I decided to go with Hanok in the same context. Like, I want to open a shop that doesn't exist in anywhere around the world. That's why I insisted Hanok. It's so nice though. It's quiet and that's also nice. Well from another point of view, that might be bad, because I can't ignore the traffic of people (laugh)."
Q4. What are the criteria of Parlour when selecting the products?
"Recently, the brand called Alden has been brought in so I wear them a lot. However, I wanted to approach a little bit differently. There are 4 places selling Alden. Koreans especially like the leather that goes through special certification process by Japanese. We don't buy that. Because I found it meaningless. I'm trying to bring out the aspects that have been hidden due to the certain leathers that people especially prefer."
Q5. Other than it is a Hanok, what are the details in space that Parlour especially pay attention to?
"A house you can see the sky, that's the concept. A house you can see the sky even without raising your head. The lighting is fine, it comes from every direction and there's a smoking area. I wanted to create a space for men.
I even brought the trash can from Denmark. It's a bit changed but the carpet is also from Denmark and so are the lights. Apart from that, I can't miss the Korean elements right, so I put some Jangdokdae* and the ashtray is from Hungary. That's a brand called Herend which I bought at a flea market in Hungary. I wanted to give a Hungarian mood when I brought Vass. That painting is also from Hungary. If I go for a business trip, I buy an album of that country. I think if I want to sell something at a certain value, then I have to prepare myself for that level."
(*Jangdokdae : an outside space, most frequently a terrace, where a series of pottery jars are gathered as a storage.
"We did the gardening by ourselves, and we thought we should plant an apple tree because it's Jongro, so we went to Pangyo to buy one. In addition, we planted the lawn as well. However they are all dead now (laugh). We got an apple only once."
"This building is founded in 1930, precisely in 1928. The Hanoks built around that time have a bunker. I couldn't use it for a storage, but I used it as a wine cellar before. I used to give out to the customers, acquaintances and I bought them when I meet someone or send it as a gift. It's humid which makes a quite a decent wine cellar."
Q6. What are the details in service?
"Koreans usually don't know their exact foot size. The average of Korean foot size is 254mm. However we mostly sell 255 or 260 which means people don't know their feet. We'd like to spread the proper method of measuring, which is that the shoes cover your feet nicely when you wear them. It shouldn't be too tight or too big, it shouldn't hurt due to small space and shouldn't be bothered by an empty space. Like you even forget you are wearing shoes. We do lots of professional stuff to deliver good shoes experience."
"We measure the feet with a proper device and moreover, when it comes to shoes, there is more than just the length of the feet. We provide correct size considering width and height of the feet, and suggest the right shoes according to the lifestyle of each customer."
"We don't provide after service by ourselves but instead, we explain how to take care of them. We tell the customers that they have to take care of their own shoes. We give explanations about it since self management if important. We do the care together if they bring their shoes, not that we clean for them.
Outro
Normally shoe store seems little bit difficult to approach but I could see their considerate gesture and feel comfortable at Parlour. In changing trends, Parlour has been continuously recommending 'real'. In the process of finding own preference, the customers will meet a simple, but important values at Parlour. It was a precious time to check out Parlour's charming space, shoes and details.
INTERVIEW DATE / 2019. 08. 12
INTERVIEWEE / @parlourkr
INTERVIEWER / Won, Wan
Edited by | SEOCHONYOOHEE Photo by | SEOCHONYOOHEE
© YOOHEE.SEOCHON
Text and photos in this post may not be used without permission. For requests and questions about utilizing content, please contact yoohee.seochon@gmail.com.