The first encounter with the works of Sue Oh (@o.x.u) was at the exhibition by Seochondogam in last October titled, "the Sense of Nature." The crochet and pottery had different colors and textures, but still created harmony with nature, and most of all, blended well with what Seochondogam was in pursuit of. It has been almost a year since then, and the artist moved to Seochon this year. The artist and I sat down at Seochondogam today to share stories.
---
Q. Please, tell us about yourself.
I am Sue Oh, an artist with focus on visual arts.
Q. I first learned about your work at the exhibition, "Sense of Nature" at Seochondogam. The exhibition was held the year before, and I can recall that it was curated with works of Sunjoo Oh. What motivated you to hold the exhibition back then?
I received a phone call the previous summer that Seochondogam had opened. And then we came up with an idea of holding an exhibition with the pottery artist, Sunjoo Oh. I liked her work that I remember it only took me seconds to say, "yes." Since then, I suggested to work closely with the pottery artist around the theme, "sense of nature." Nature was one of the key sources of inspiration for both Sunjoo and me and the curator pinpointed it very well.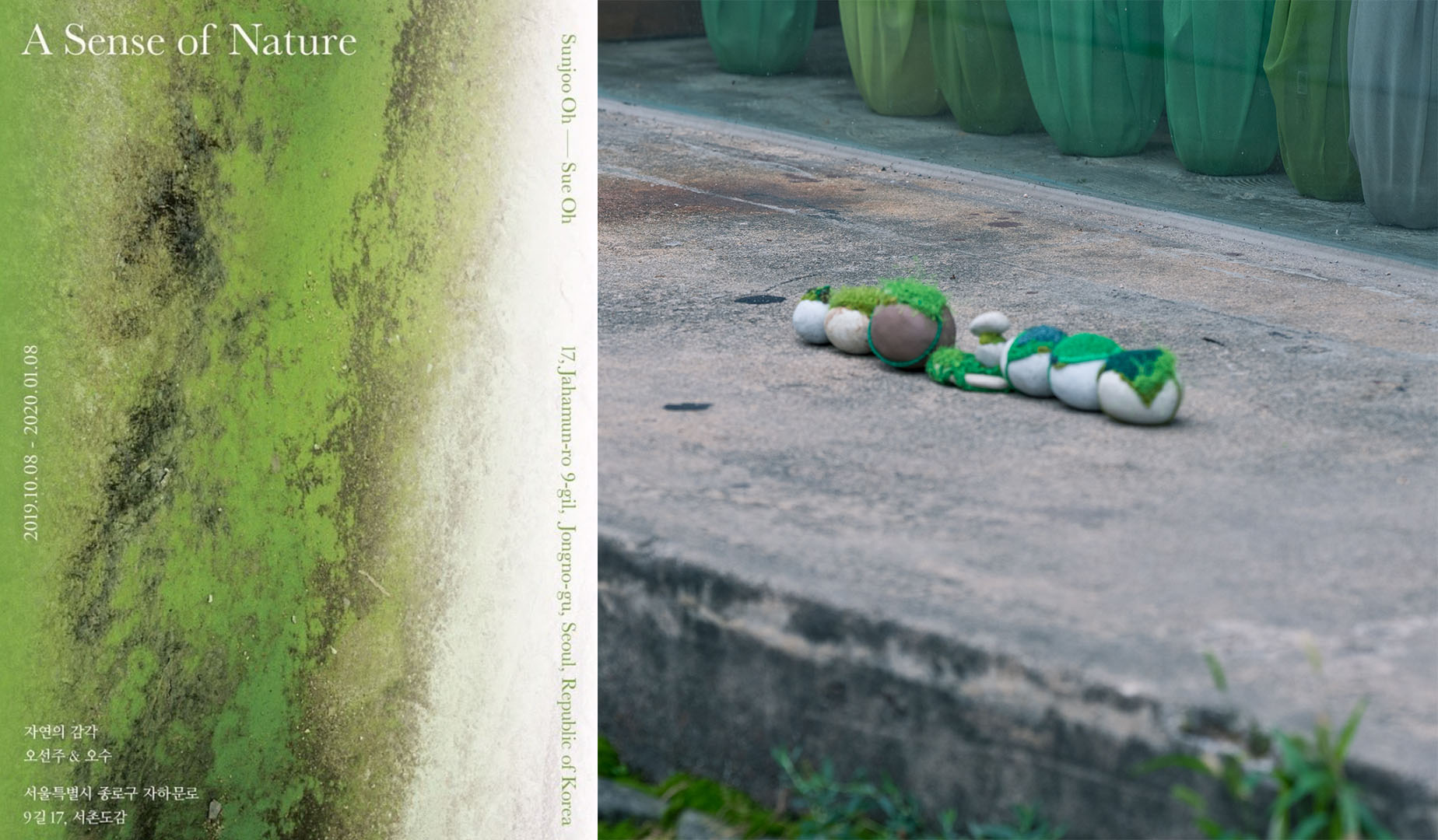 The Sense of Nature – the exhibition of Sue Oh and Sunjoo Oh that showcased a good harmony between serenity and texture of nature.
Q. Could you walk us through the artworks that you worked on back then?
I paid attention to how different texture – softness and hardness – could blend and coexist in the reality. I first started with covering porcelain or broken bowls with something. And I can recall that Sunjoo and I had different views toward nature – whereas the pottery artist borrowed refined elements or colors from nature, I paid attention to near-surreal bright colors from nature or fractal structure that would often be found by enlarging leaves or creatures. And then in parallel, we worked together on a few things, such pieces of broken glass put together, covering potteries with clothes and stones made with clay and then covered with green color.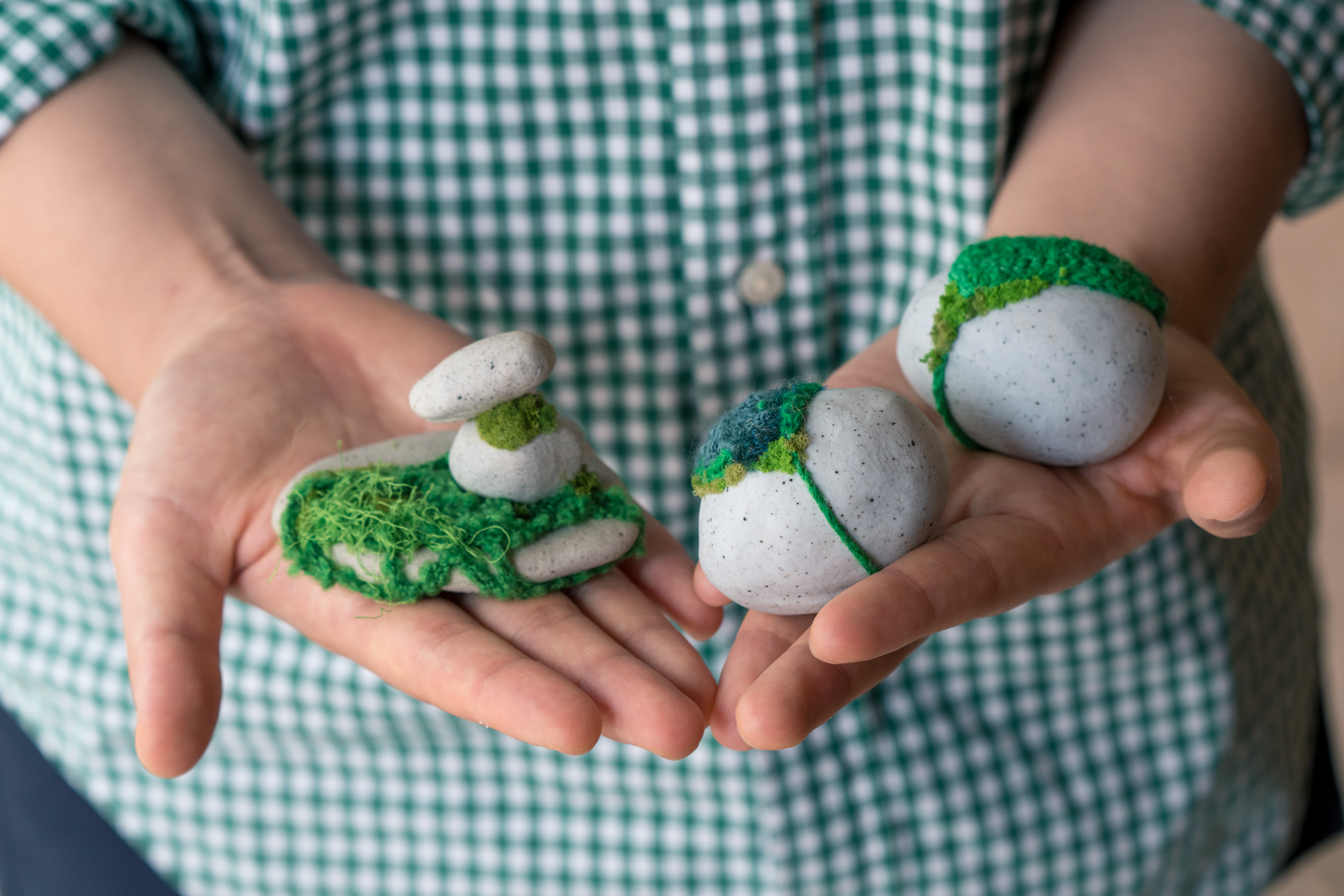 Q. You have brought a few pieces of them.
That's right. These are the broken cups from Sunjoo, and I pieced them together with moss. I started knitting, because I had been looking to travel lighter, spending time in both of France and Korea. Then I learned how to knit from a friend of mine, and the experience was life-changing to me. I got rid of all weighty materials and even sold my cameras. With light yarns and knitting needles in my bag, I could sit down and work on my own wherever and whenever I could. The simple and repetitive actions helped balance out instability from nomadic lifestyle as well.
I also worked on making faux greenery. I like greenery, but I couldn't afford to have some because I moved and travelled often. Sunjoo, on the other hand, had made stones with leftover clay before we met. The two different approaches blended well that the two of us were able to create "enteral greenery," illustrating nature on stones.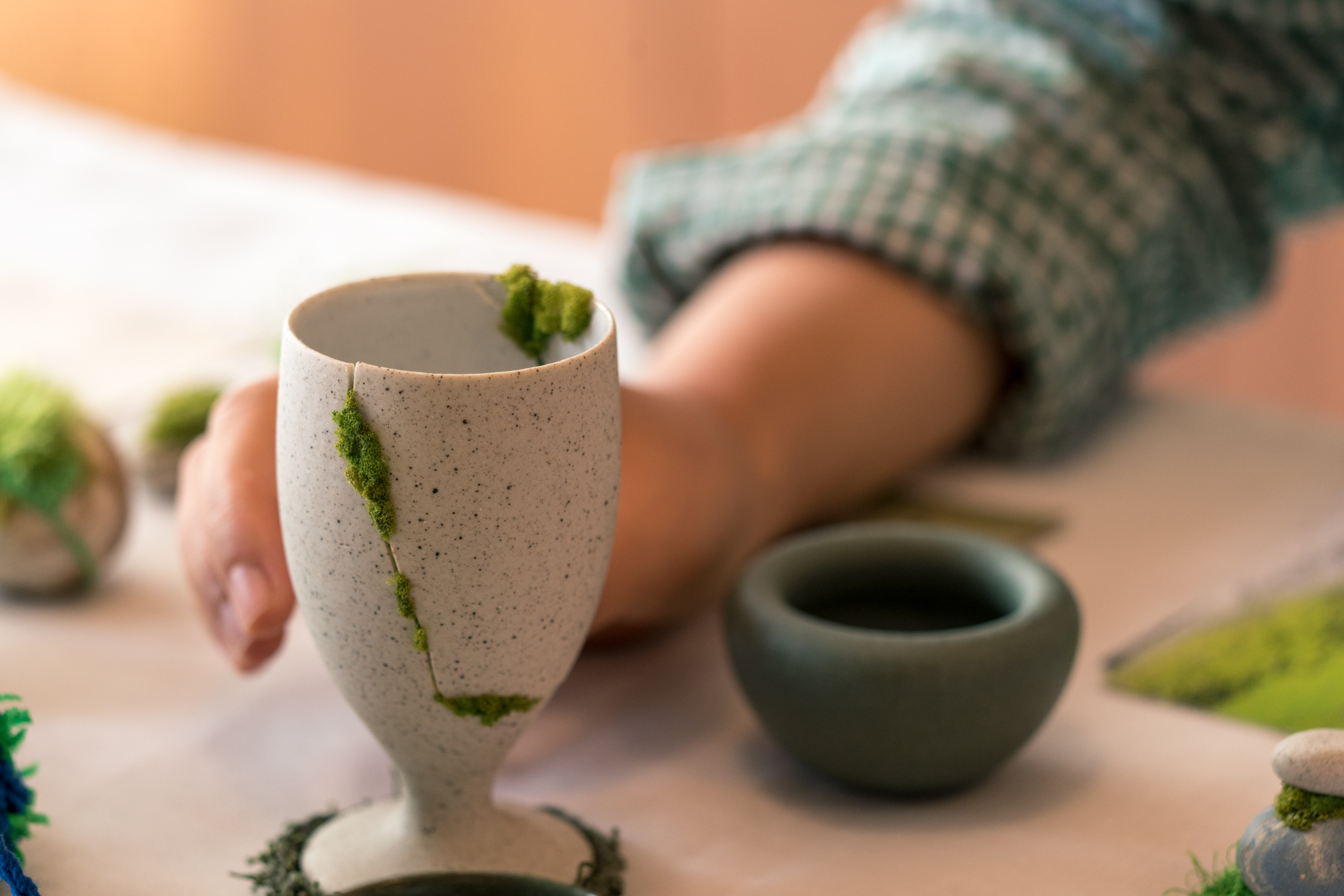 "I pieced together the broken goblet made by Sunjoo with moss." The artist, Sue Oh illustrated good harmony of nature with materials with different characteristics and qualities.
Q. Artworks created with knitting and crochet could be new to many.
I started knitting because I wanted to free myself from stress caused by weighty luggage. And taking lessons from a friend of mine based in France, I felt that I could carry around anywhere and work whenever I want. If you want to paint a picture, you need papers, colors and brushes, and should have either water or oil. If you work with some clay, you might want your studio to be spacious. But knitting, in contrast, was lightweight and easy to carry around. Most of all, I could make almost anything I had in mind.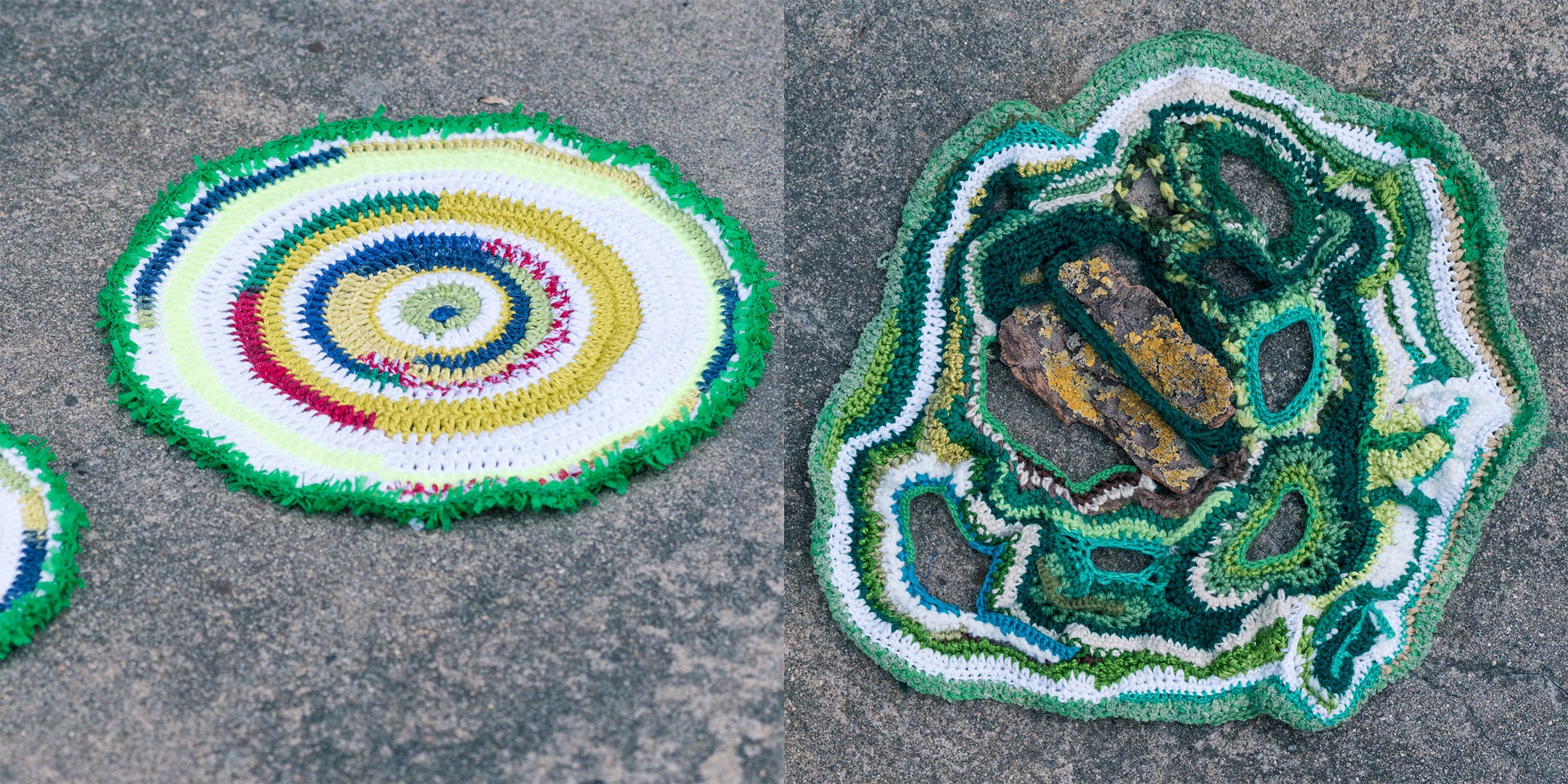 (Left) Stroll Coaster: one of the Coaster Series that resembles much to walking paths that one would encounter in everyday lives and travel destinations.
(Right) Green Pattern: an inspiration from what could be found by closely observing the nature.
Q. You have focused on traces, rather than transition, motivated by your question on "how one could prove existence in a certain place. Themed around nomadic life, traces and archiving, you have collected and modified items with stories and personal history. And these items were mostly heavier and more solid.
Recently, I have faced some limits from knitting and crochet – the outcomes were very flat. Then I turned curious how it could turn out if I added light-weighted lumps like cotton. Shifting from weighty medium to lighter alternatives, I turned to knitting and. crochet. But I admit that I ran into new challenges from knitting and crochet and experimented with other medium. I would conclude that as an artist, you would gradually phase into one after another.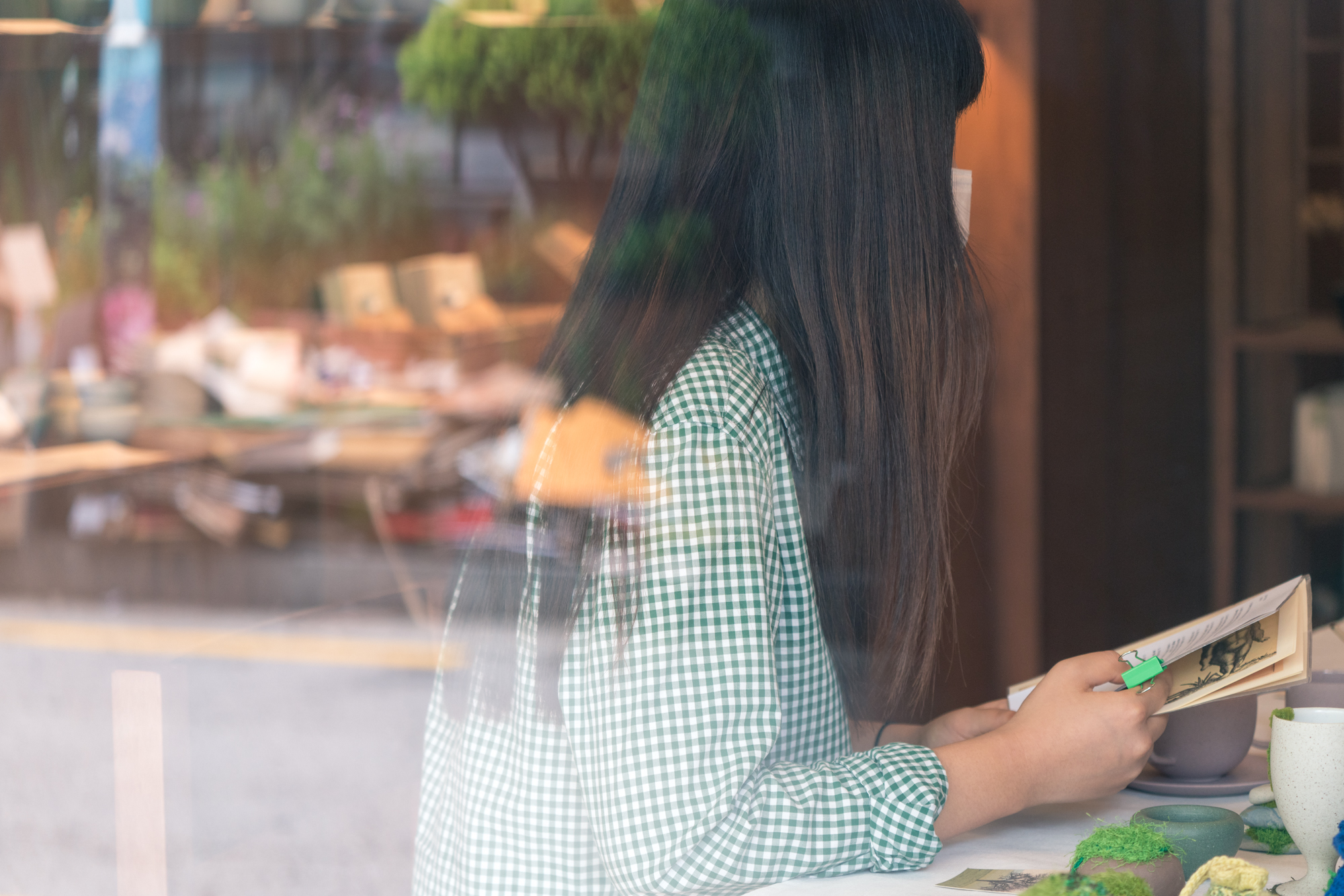 Q. Where do you get crochet thread from?
I find them in Dongdaemun or Namdaemun. And when I travel around and find some nice ones, I buy them in batches to keep. I found that I prefer green and like fluffy and furry texture. That's probably because I feel some vital power from those kinds of materials.
Q. "The Eternal Green" series was impressive. But I can also recall the masks exhibited in the space. They looked somewhat grotesque and eccentric. Could you tell us more about the masks?
I turned to masks when I started working on Nomad series, because masks were the items that nomads often choose to wear, and the ornamental elements were fascinating to me. And my past experience in finding a group of dancers wearing animal masks left strong impression and gave some influence in my work. I was fascinated by those in masks neither sat nor stood still but kept moving around. Then I decided to do my own experiment in making masks. That was the start.
And I personally would like to make more research on masks. There are so many out there who are making masks, but different approaches lead to a variety of outcomes. I am still curious about masks and feel that there are still so many things to explore.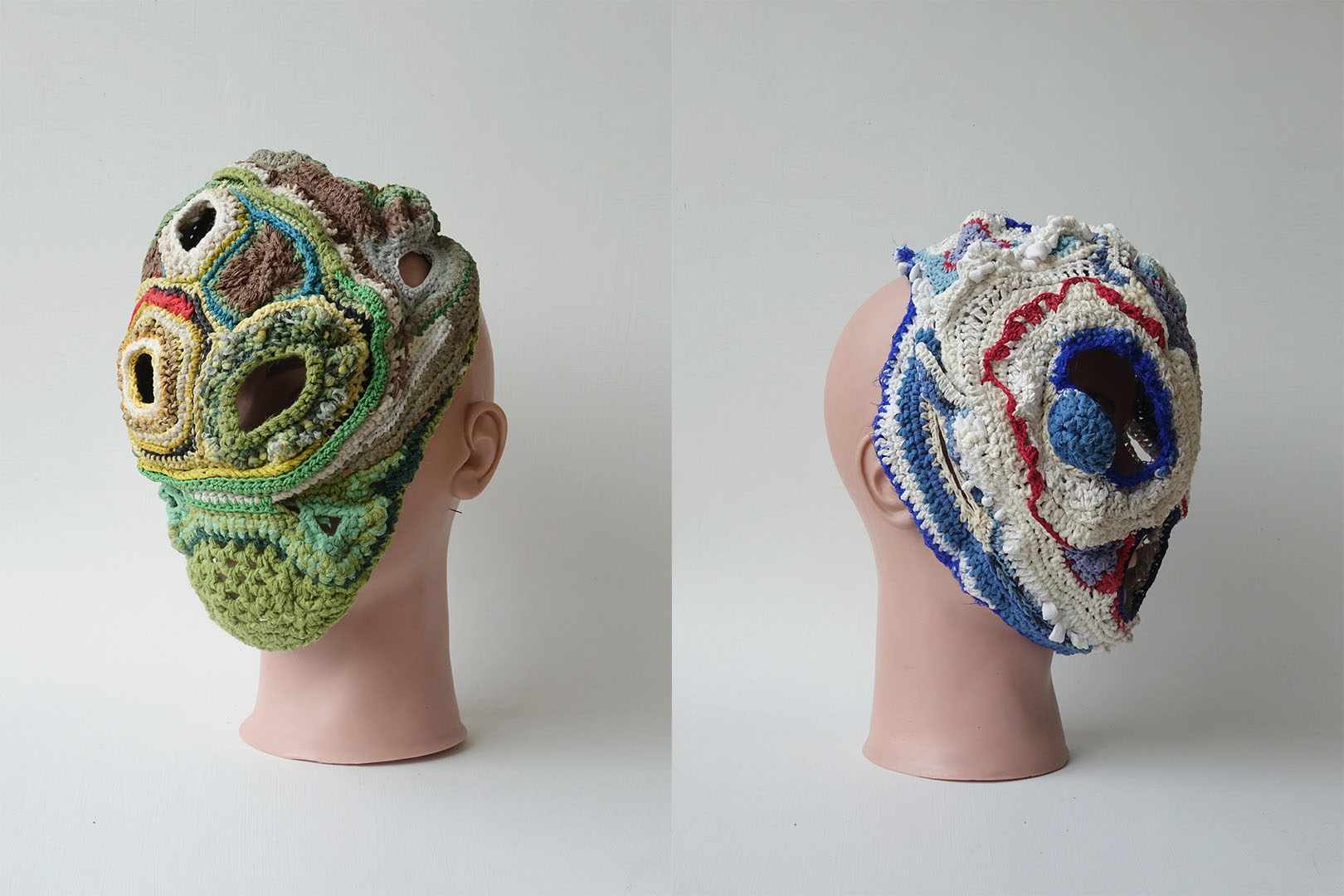 Natural Pattern Mask 01, 02 - the masks are inspired from circus troupe and nomads who traveling around in Mother Nature.
Q. Your fans could be curious about your studio and daily routine. Could you tell us about them?
I am a freelancing artist and need to run a few other things in parallel that I don't set specific time for my work of art. I work on my own whenever I can, and it's unpredictable. And when I feel that things are working really well, I never stop but often end up working into the nights. I guess that's because it from some obsessive feeling that I need to carry on when everything is running smooth.
And I work from home. If I have a studio outside of home, I feel anxious. And I need to have everything within my reach so that I could take notes or try making a few pieces when anything pops in my mind.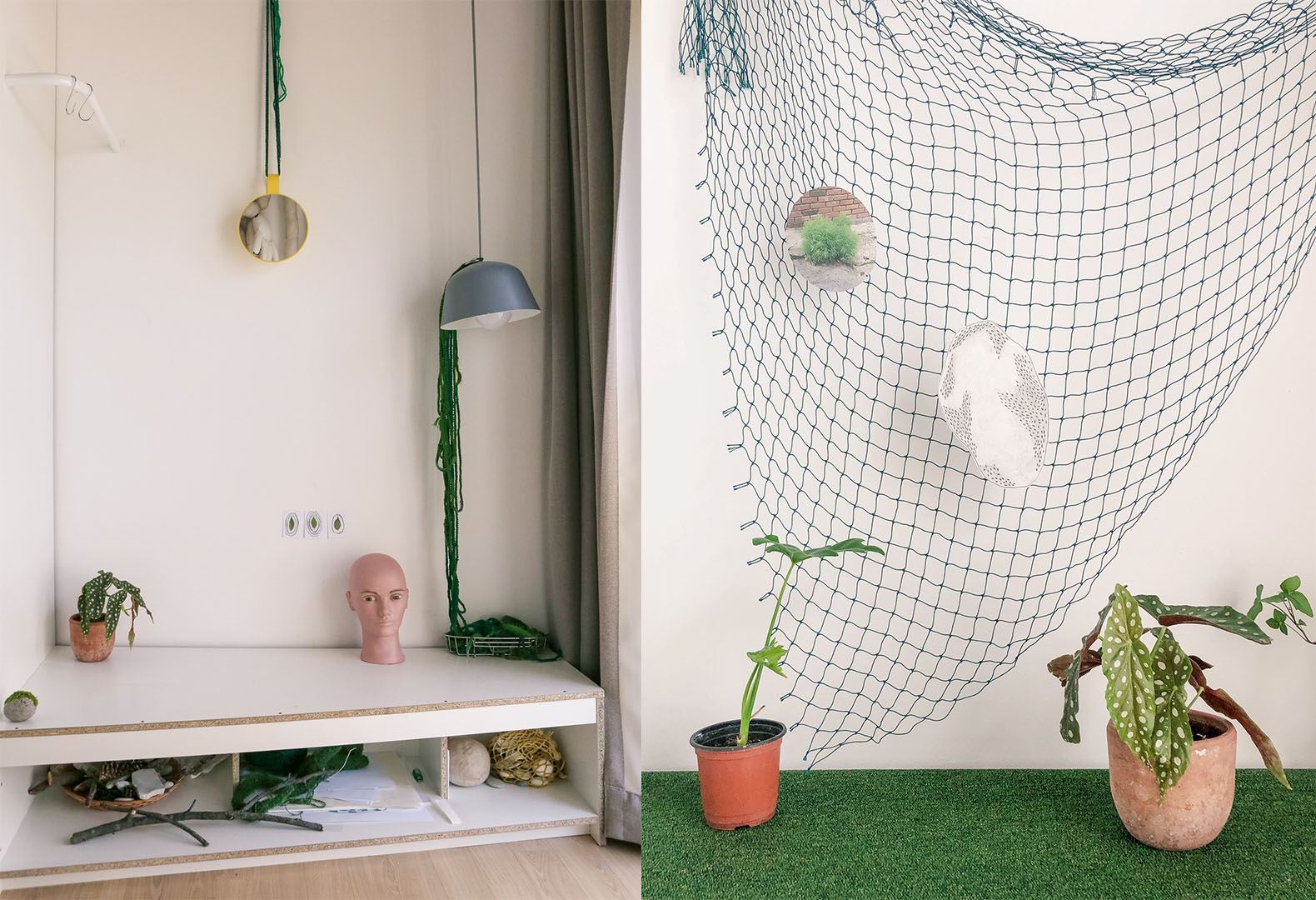 The photo of the studio taken by the artist herself. In the midst of various materials, green color remains to be eye-catching.
Q. You're living in Seochon area now.
I had to leave where I was living. This happened all of sudden. I was in a rush to find where to move, and one of my best friends sent me a web address of a community house called "Collective Mine." I have moved to the place in January this year. I came to be based in the area by chance, yet feel comfortable and familiar with the area, thanks to the exhibition in Seochondogam.
Q. Could you hint at upcoming exhibitions or what you are working on?
I am looking to continue my work on nomadic life and nature that never ceases to circulate. And I am planning to take part in Craft Week in September. I've recently picked up drawing recently, and I guess I'll be able to show some in the latter half of this year. I'm closely working with Sunjoo to further develop the original idea from the previous exhibition. I will make sure to keep you updated with good news!
INTERVIEW DATE / AUG 31st 2020
INTERVIEWEE / @o.x.u
INTERVIEWER / Won, Wan
Edited by | SEOCHONYOOHEE Photo by | SEOCHONYOOHEE
© YOOHEE.SEOCHON
Text and photos in this post may not be used without permission. For requests and questions about utilizing content, please contact yoohee.seochon@gmail.com.