Quite Unique but Cinematic, "Paums Seoul" is
Magazine YOOHEE No.21 <PaumsSeoul>
There are certainly many differences between Paums Seoul and other bookstores. Paums Seoul has a motto that says "Movie Things." When the door is opened, it looks like a bookstore, but it is not a bookstore. Though it may seem unfamiliar, it is a place of tranquility with its light and music. This is a place where one feels as if one is peering into an individual's study area that reflects their interests. Paums Seoul was initially struck as a strange and curiously attractive space. The number and type of movie books available in Korea are small, so it comes as no surprise that the books available in bookstores always seem to be the same. However, the books introduced by Paums Seoul are neatly arranged by the solid criteria of movies, the surrounding community, and overall originality. It is honest and clever. In order to learn more about Paums Seoul, which is a unique and cinematic space, we knocked on the closed doors on a weekday morning and met Choi Si-hyung, CEO.
<Chapter1. Paums Seoul>How would you describe Paums Seoul?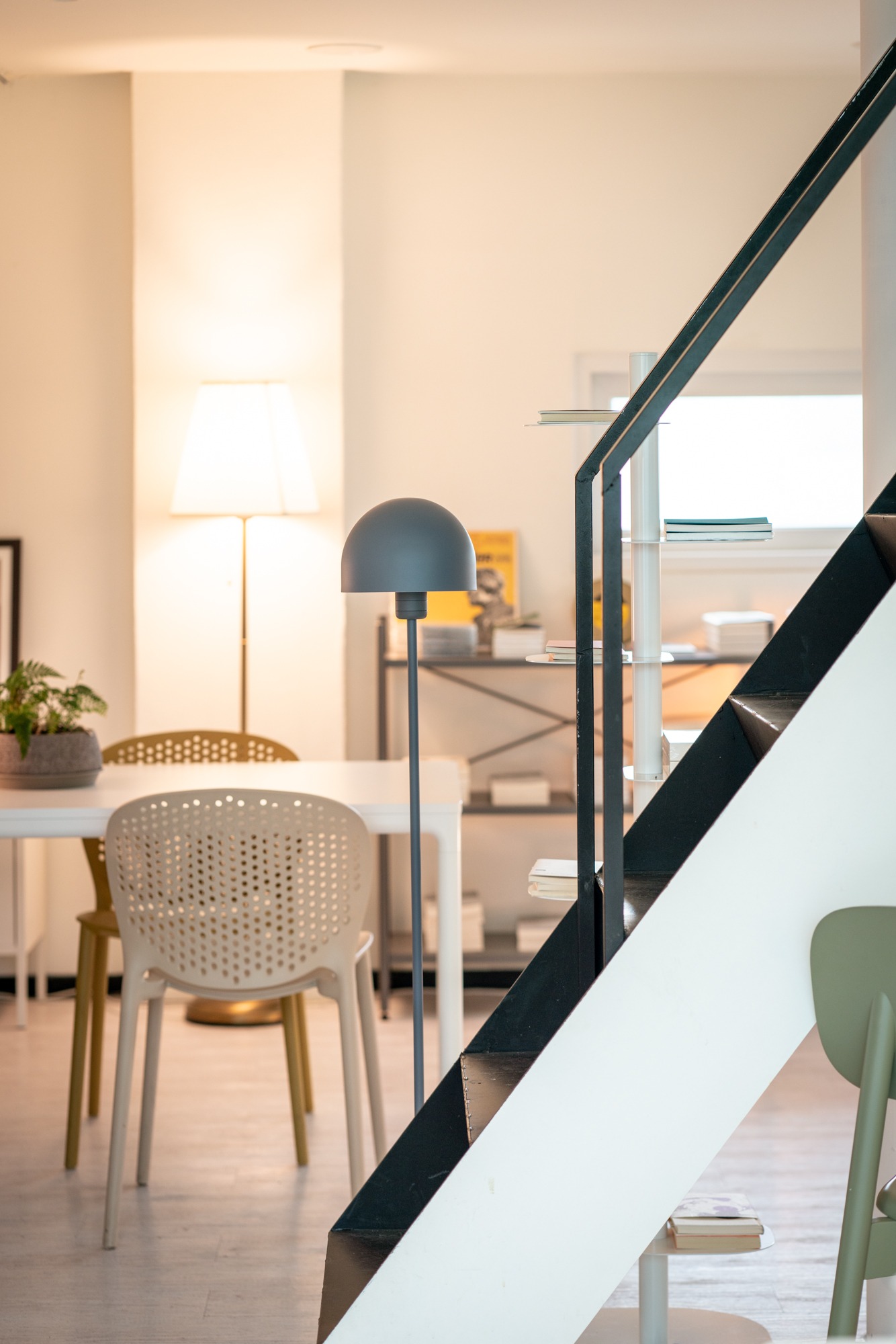 As I wrote on Instagram, I think Paums Seoul can be described in terms of "movie things". The idea of a gathering place has more significance than a store that sells merchandise to me when I consider Paums Seoul. The store currently sells books and coffee, however, I plan to focus more on screenings, performances, and exhibitions in the future. It can be viewed as a place devoted to movies and related topics.
Paums Seoul, I am curious to learn more about the meaning of the name since it is unfamiliar to me
When I was faced with the creation of a new email account, the use of preexisting words made me feel as if I was forced to meet certain standards. However, when I approached it without much thought, the first email ID I created when I was young was "Paums," and when I first thought of Paums, I simply wrote letters that came to mind. In addition, I wrote "Seoul" since that was the place I was born. It was the first time I used the name Paums Seoul.
In the event that you unconsciously create words that do not exist, I believe there can be some conscious intervention, such as using your favorite pronunciation symbol. You might have found the word "Paums" appealing.
For some reason, it sounded like a French word to me. Also, I liked it because it was a word that no one else would use.
It would be interesting to know why Paums Seoul was established and what its story is.
When I am not directing, I have a good amount of time on my hands. Directing is a labor of love that requires a great deal of time. For financial and emotional reasons, I do different things when I am not directing, and in that instance I wanted to set a rule, which was "I will not do anything that is not related to movies." Plus, I have always had a sense of solidarity with the individuals I have met through film. I believe that was how the standard of 'movie things' originated.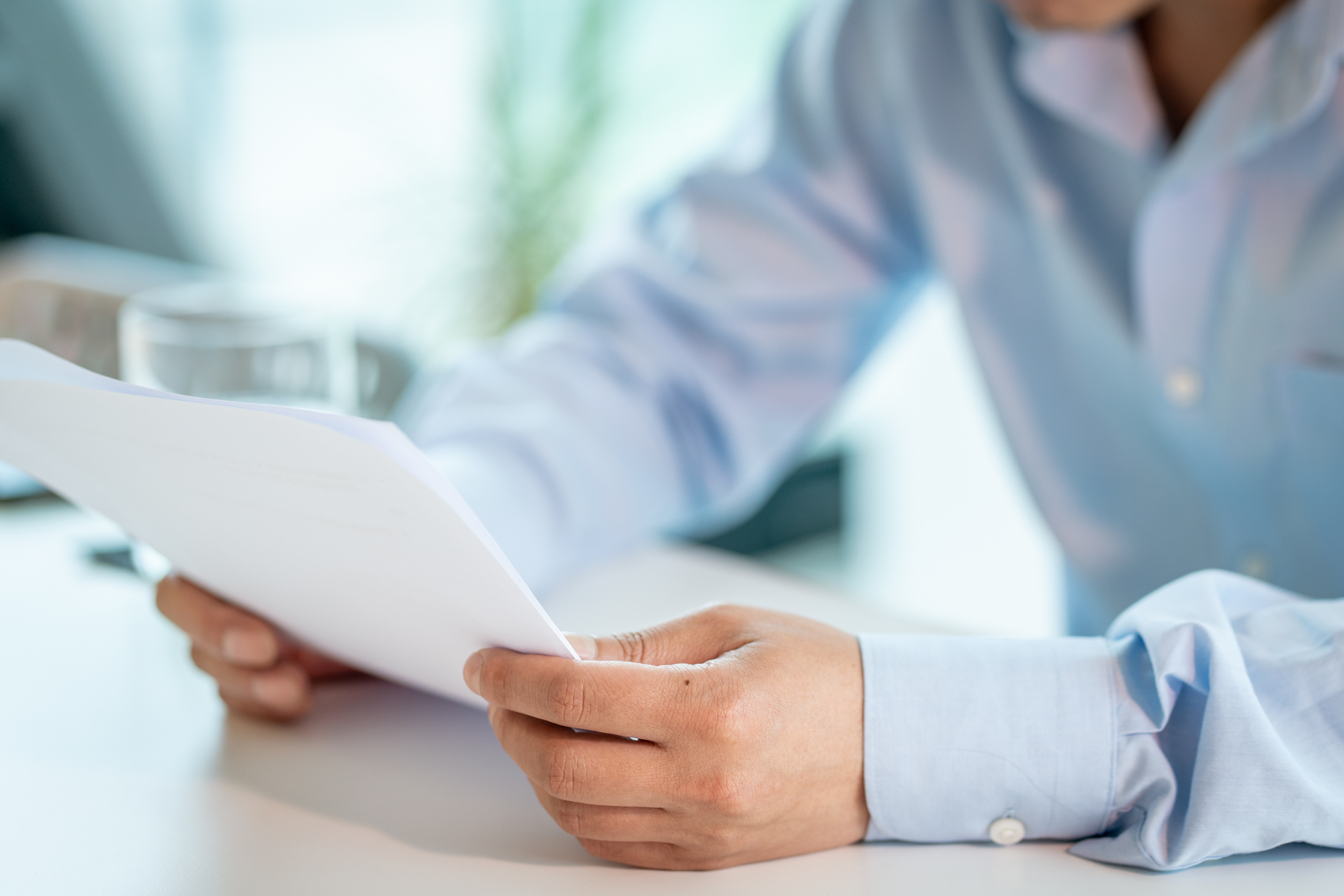 What is Paums Seoul's main customer base?
Many acquaintances come to the store. A number of moviemakers and people who enjoy photography visit here. However, I am unsure as to how they became aware of this place. While there is little profit generated from this space, I purposefully do not promote it since I want people to feel comfortable when one or two people visit.
Despite my confidence in promoting space such as "Namgukjaegyoen '' I ran before, I do not believe Paums Seoul is planning on doing so. There was a moment when I pondered it for a while. Even then, I changed my mind about promoting this small business since I couldn't keep the store open every day. As a result, it has the feel of a hidden place.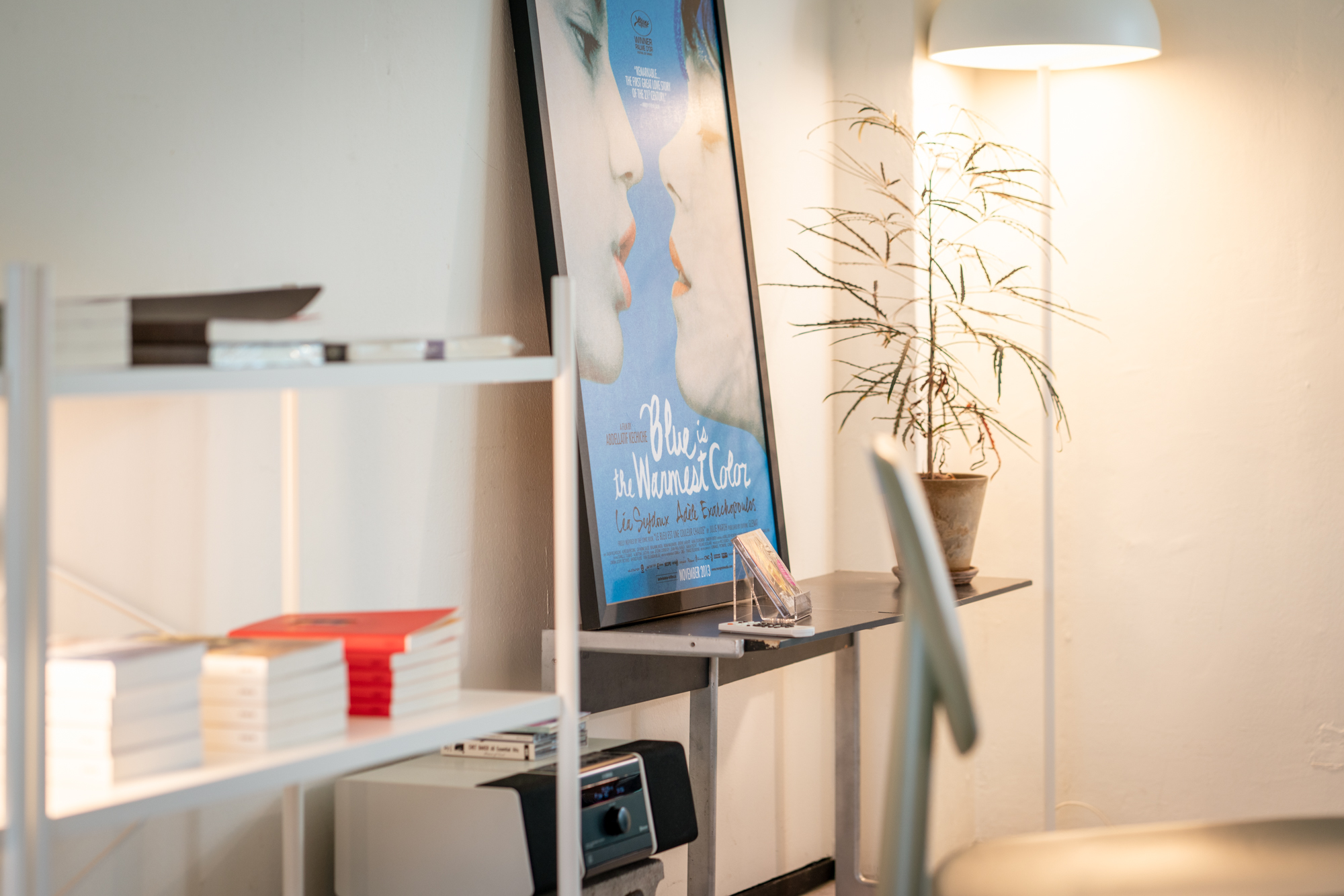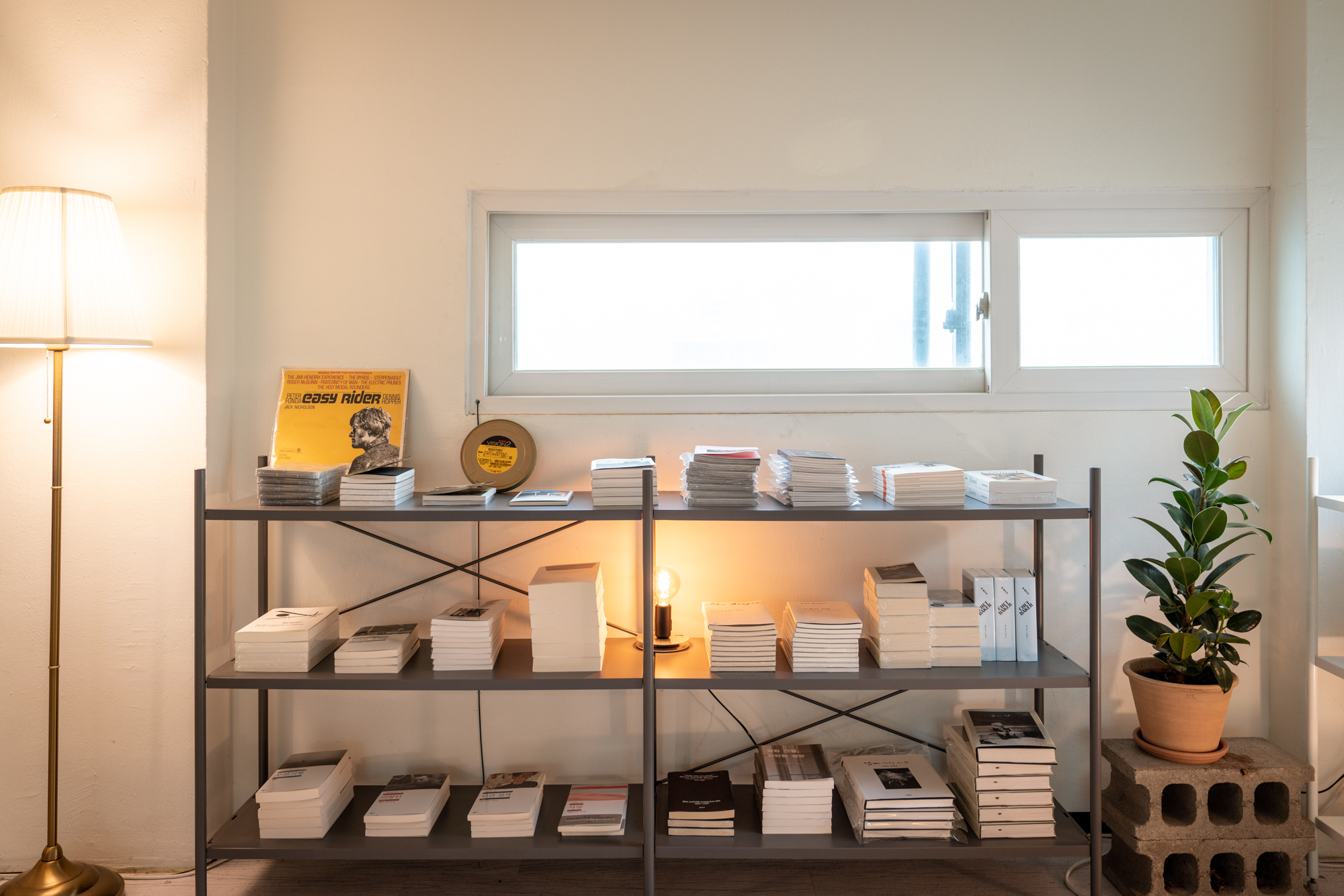 As you mentioned earlier, I suppose the method of operation may change at any time within the scope of a "movie".
In fact, it changes every week. I am still figuring things out. Due to what I do, it is difficult to plan my days.
<Chapter2. Some Cinematic Topics that Paums Seoul Discusses>
I am intrigued by the books, principles, and characteristics curated by Paums Seoul.
Book selections are usually made through meetings with the members I run with. Almost all of the books chosen have a strong element of originality. I also reject the trend that I believe is clumsy. If, for instance, there is a master's book such as Tarkovsky, the members must have a clear understanding of the selection.
Although film theories vary slightly between countries, France has made movies private. In general, a movie is a piece of writing that makes use of a camera, and I believe that our members are gradually acquiring this skill. Since each individual is engaged in their own work, there is definitely an impact. Thus, I think the books that we introduce can be described as "the ones that are cinematic, cool, but not selfish". There are writings and photographs that have only happy outcomes for themselves.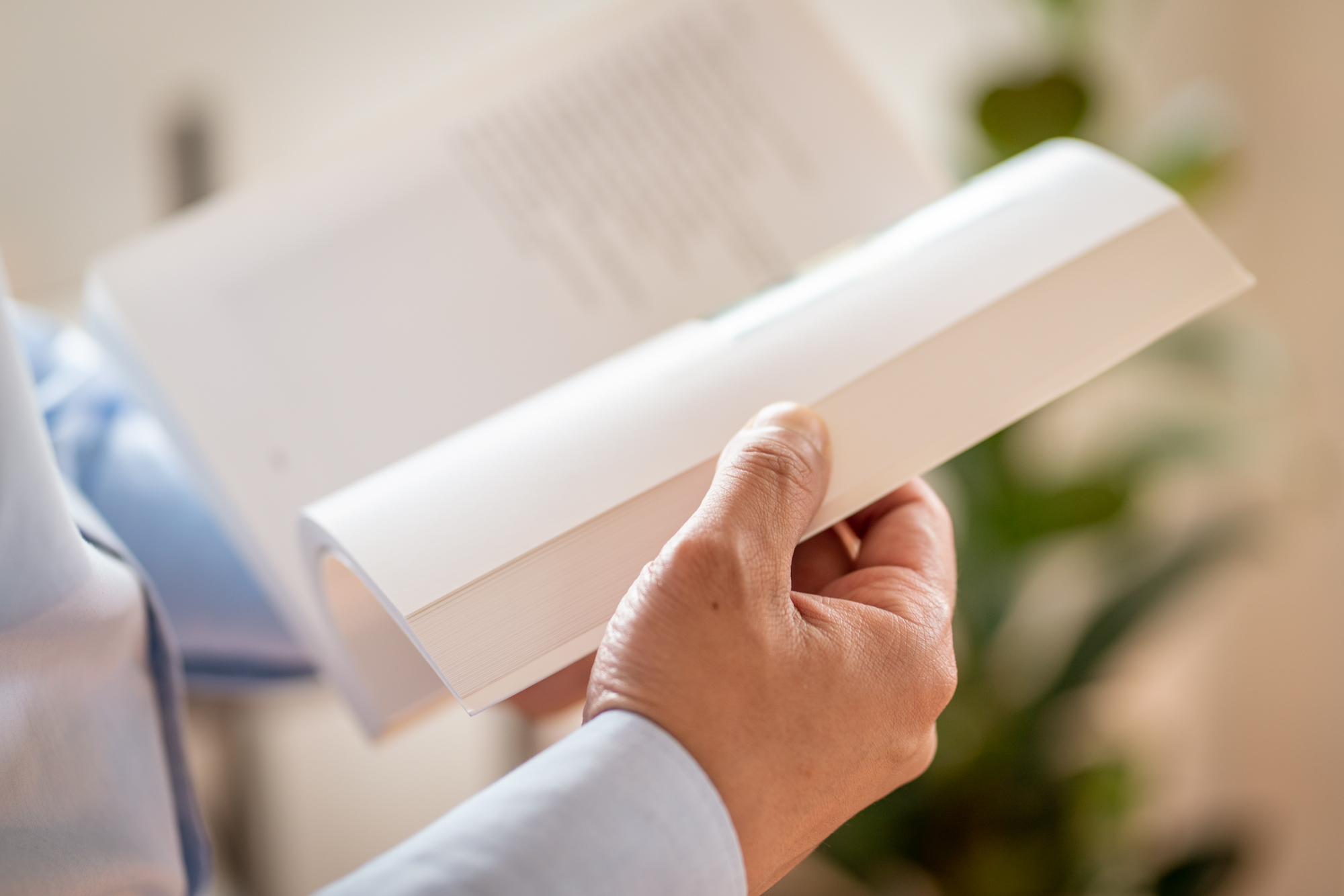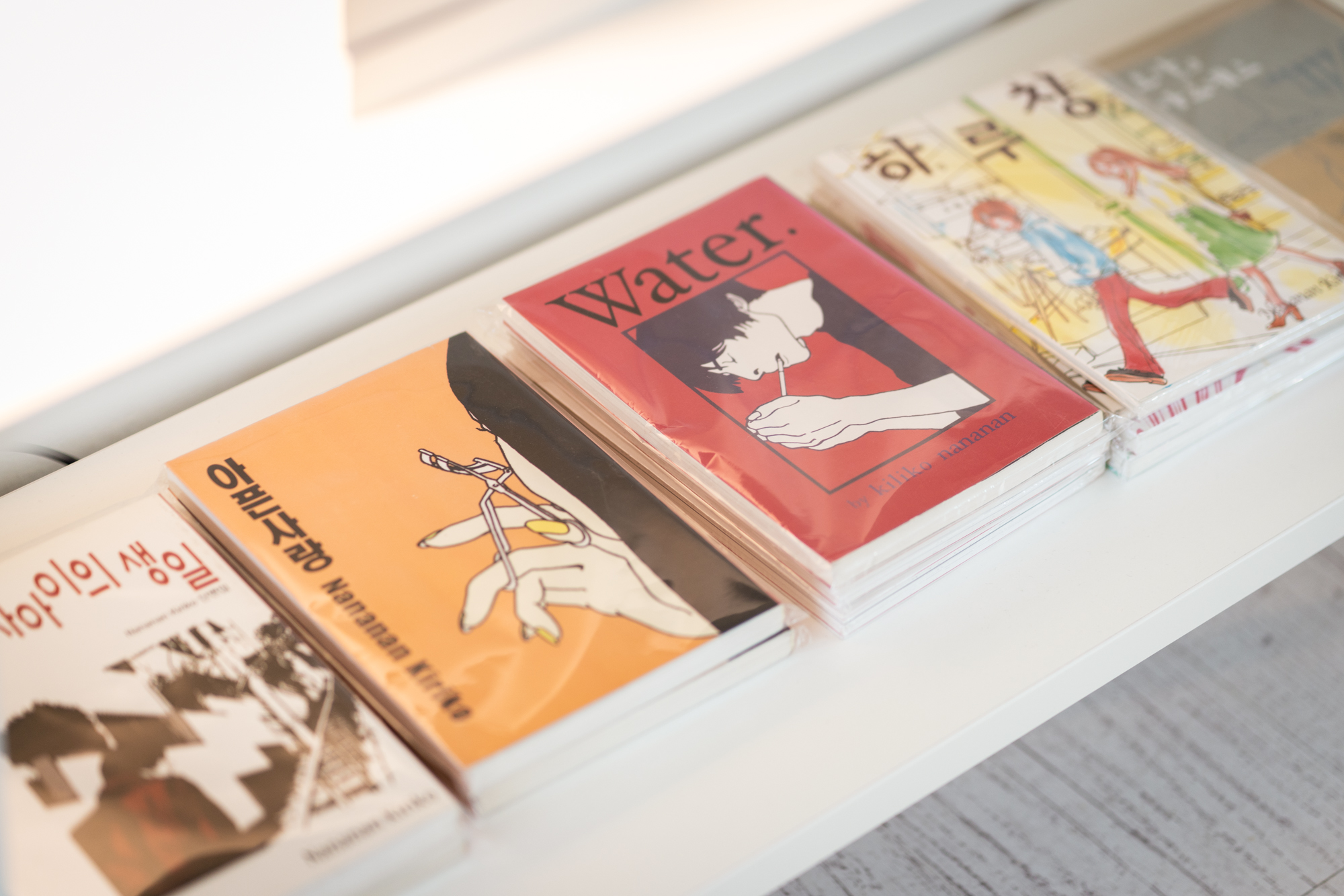 Are there any books that are particularly special to you?
There are many books by directors and filmmakers who made great films. These include videos of Bokan (Shonobu Hashimoto), Tarkowski's photobook (Shohei Imamura), Once (Wim Wenders), and Cinematograph. As the art of movies is a medium limited in time, space, and capital, there may be a story surrounding the movie that could not be included in the movie.
Furthermore, I am curious if you have any plans to introduce or develop any books or products in the future.
There are currently five photographs being prepared for production, including three photobooks, one film still photobook, and one photobook by an artist in Europe. All of them are photo books, and in the case of the book I am preparing, there is a photo essay recorded during the summer titled "Summer Thoughts." We are preparing both photo books and movie goods.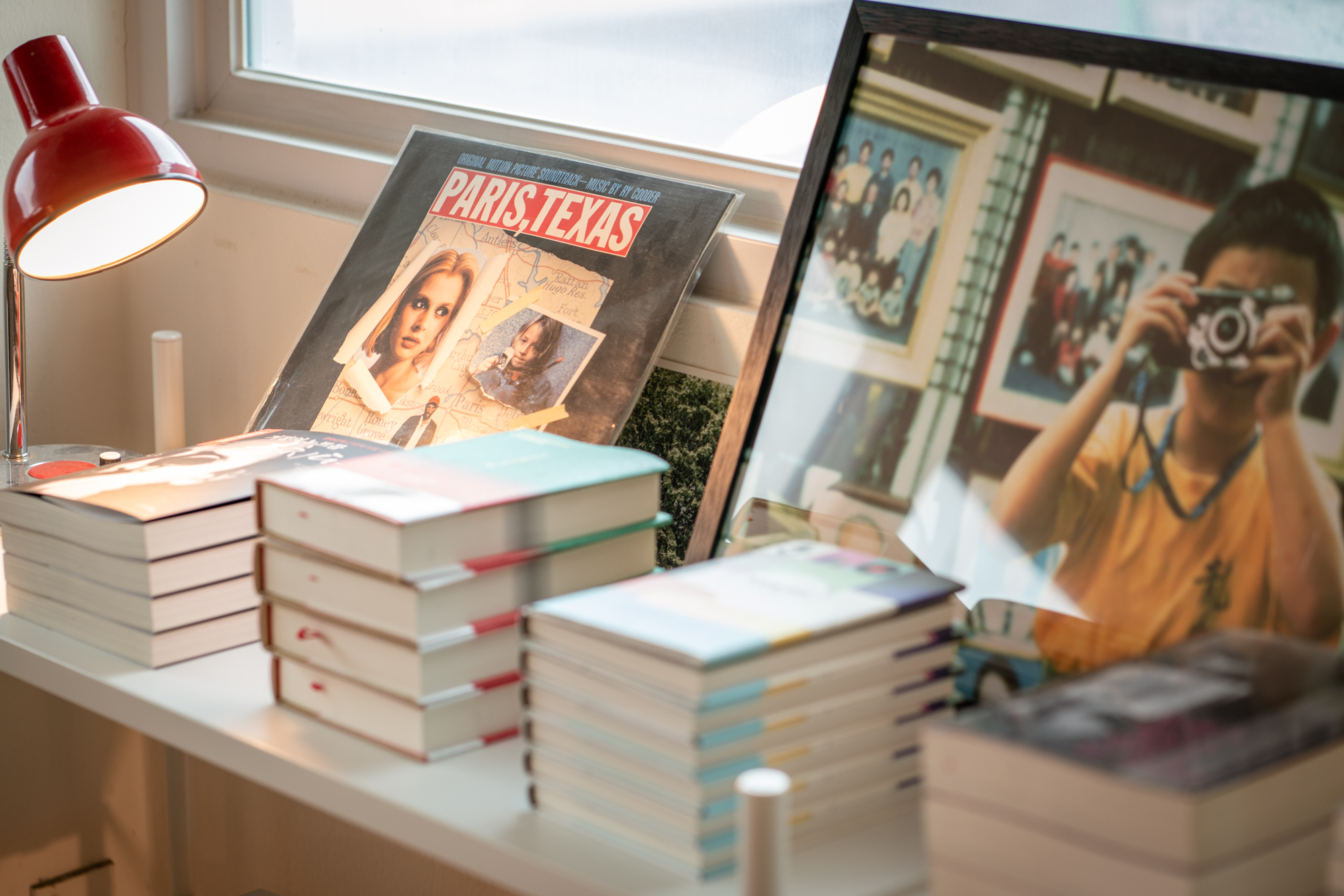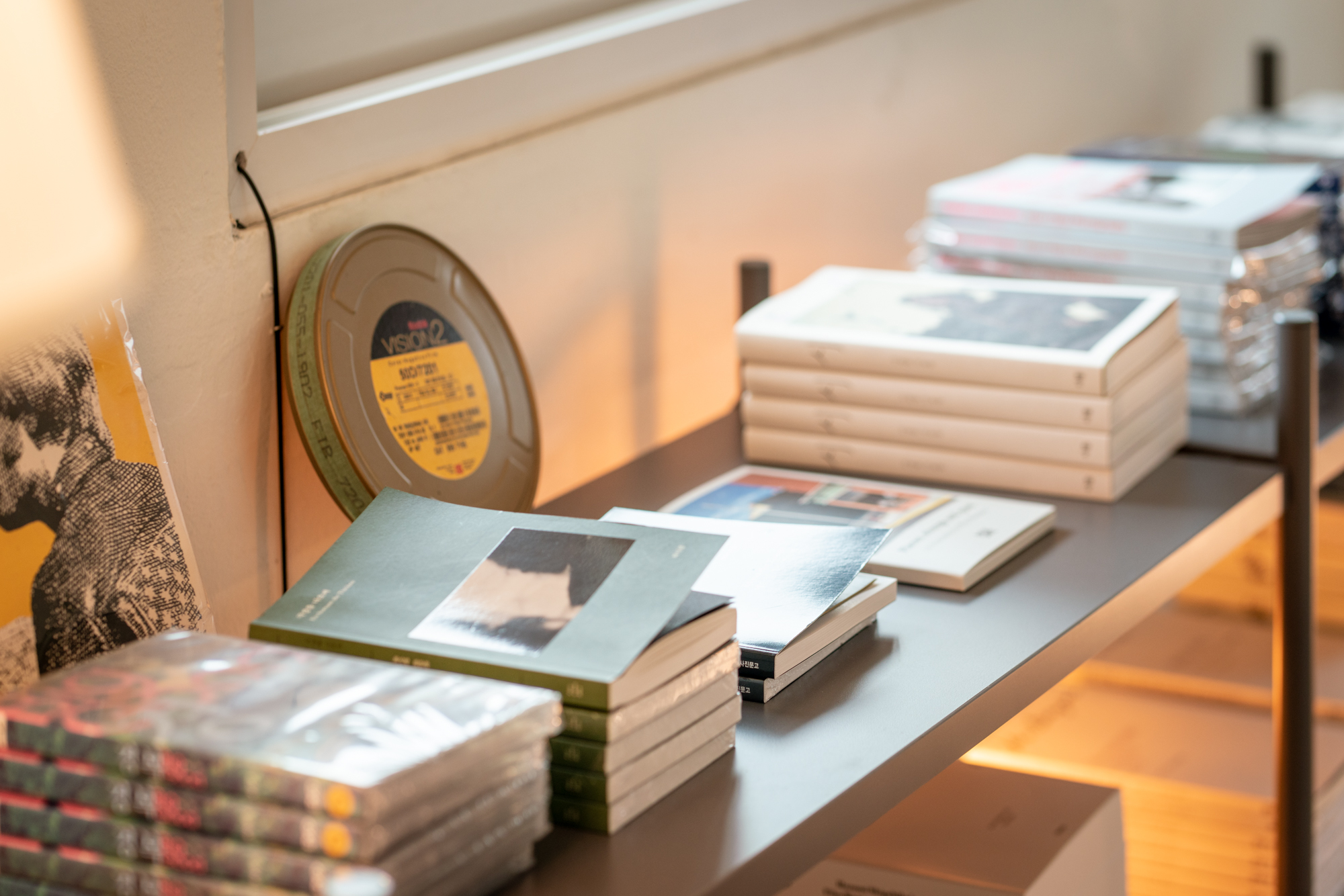 Tell us about the workshop that was held in Paums Seoul.
As long as the workshop does not interfere with my main job, I have been conducting it loosely twice a month, once every two weeks over the past three to four years. The majority of the class was devoted to movies and scenarios, and I believe quite a few people attended workshops. Having started my career as an actor, I now teach a few movie acting workshops once a week.
Are there any memorable events or moments from the workshop?
When there were positive outcomes for those who were with me, I felt the most satisfied than anything else. Some people got jobs at graduate schools, some screened their films at film festivals, and some won the scenario contest. It makes me feel good to know that I contributed in some way to the dreams of my juniors. Now that the scenario workshop has been completed, we are conducting an acting workshop, which is rewarding when there are good results from the actors, such as their appearing at audition meetings. We usually take pictures together once a month.

If you have any other events that you have hosted, please let me know.
A number of events were held, but most of them were screenings and performances. When I attempted to make and screen a film, I was so overwhelmed by the number of people involved that I was unable to make any announcements. Eventually, I would like to host more exhibitions, movie screenings, and performances for outsiders, so I am considering moving them to another venue.
According to my understanding, there are drinks available for sale.
We currently sell coffee and Keemun black tea. When it came to coffee, I simply wanted to drink fresh coffee, and it was the best when carefully brewed with fresh beans. Coffee beans vary greatly from one batch to another. On the basis of my experience with the bar I used to run, I plan to sell highball in the future.

<Chapter3. People and Space in Paums Seoul>
The members of Paums Seoul pique my interest. Could you let me know how many members there are and how they met? I am also wondering how you conduct business with the members.
I work with a team of four people, which includes myself, and I believe that there are about ten people altogether. All of them have experience working on films in various capacities. Movies are at the center of their lives. Director, producer and music director are among them.
The story of CEO Choi Si-hyung also interests me, so please provide a brief summary.
Essentially, I am a person who directs and appears in films, and I started the project when I was 20. Though I don't work with any logical standards, I think I have been involved in film production in any way every year, starting a movie at the age of 20. I'm definitely a filmmaker. My passion is for movies, and I hope to continue making and producing them in the future.
Nonetheless, I am always considering ways to generate profit through my films. I am also interested in establishing a platform in the form of a theater. Paums Seoul currently holds workshops and film festivals.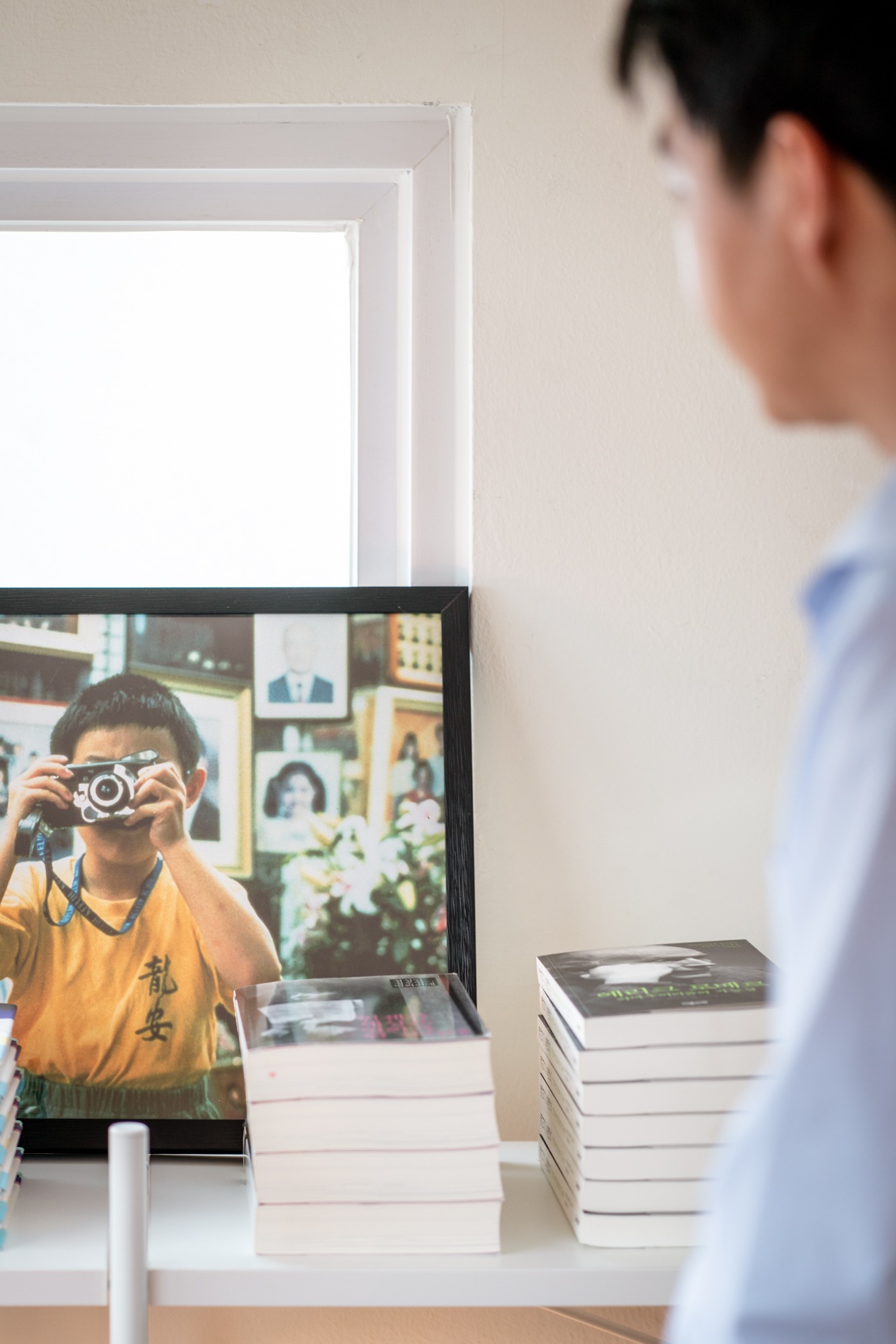 You also seem to work with a lot of photography.
The majority of photography work is done for actors who submit profile requests, so I take pictures of people. I tend to pick my topics overtime after photographing without any particular purpose or plan. Fuji cameras are used as digital cameras, and Leica, Contax, Rollei small, and Rollei medium cameras are used as film cameras.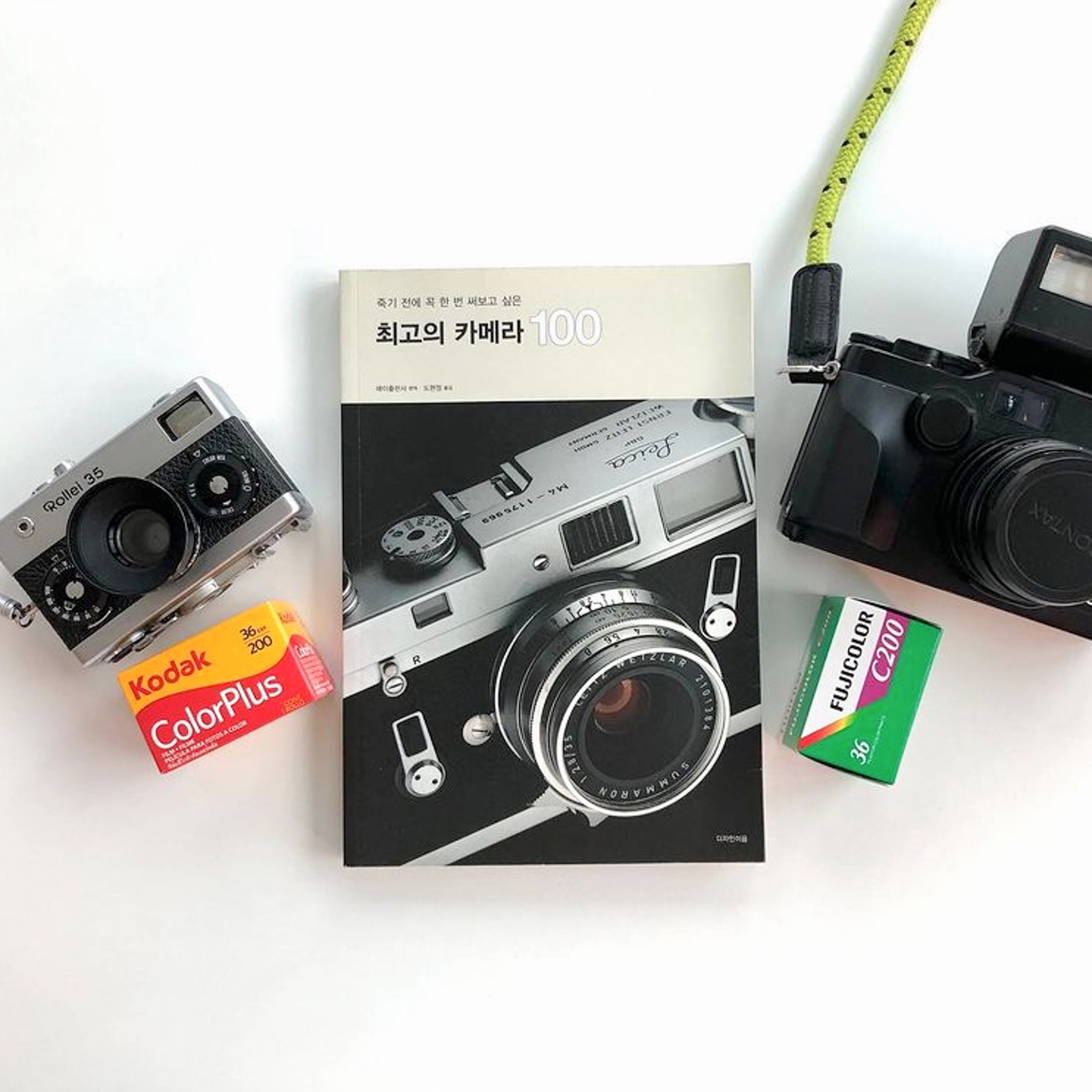 Has doing Paums Seoul resulted in any personal gains or losses?
I gained a lot of people through Paums Seoul, but I lost a lot of time. Although before I did not feel that there was a lack of time, these days I do. I enjoy meeting people and discussing work, but my personal time is dwindling rapidly.
As far as I am aware, you ran the space previously. Is Namgukjaegyeon a place for people in the movie industry?
Namgukjaegyeon began as a place where people could drink alcohol in a comfortable environment and watch movies with ease. Fortunately, I believe quite a few people were interested at the time. While attention was focused, the time available for the main task gradually decreased, so it was impossible to continue operations.
There was no problem ordering coffee from Namgukjaegyeon, drinking alcohol, and staying for a long time. Therefore, people who enjoy movies were able to meet a great deal at Namgukjaegyeon. That is how we met, made movies, and screened our films.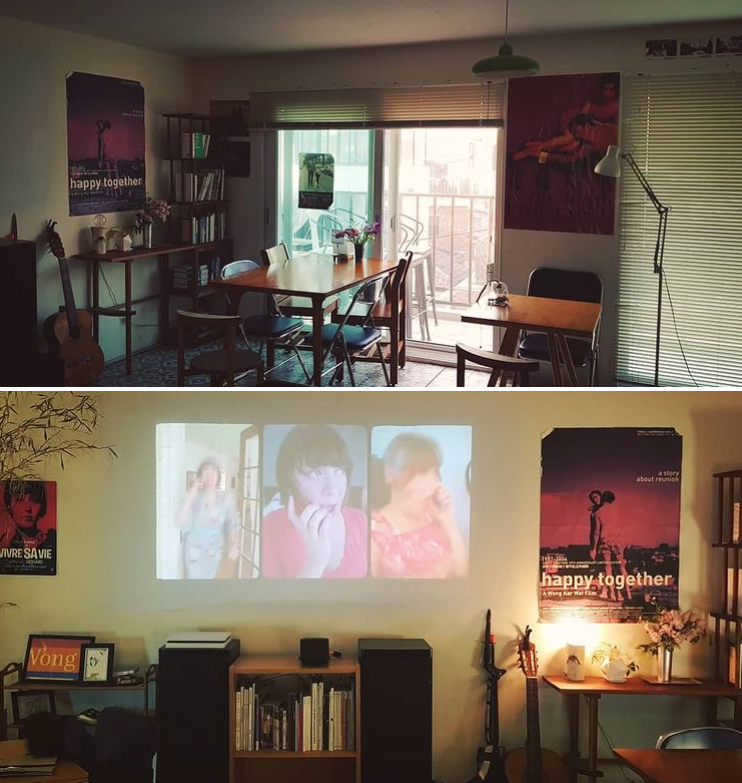 What is the reason why you used to run space in Yeonnam-dong and now chose the space in Paums Seoul as Seochon?
I'm from Seochon. My hometown is Buam-dong, but I graduated from Cheongun Elementary School, Middle School, and Gyeongbok High School. During the middle of my childhood, I moved to a different location, but I was almost born and raised there. I, therefore, have many memories of Seochon. Sometimes, I run into my classmates.
The scenery is the primary reason for choosing this space. Also, the interior is very unique, and bookshelves with slopes along the inner wall have been there from the start. When I first saw it, I was fascinated.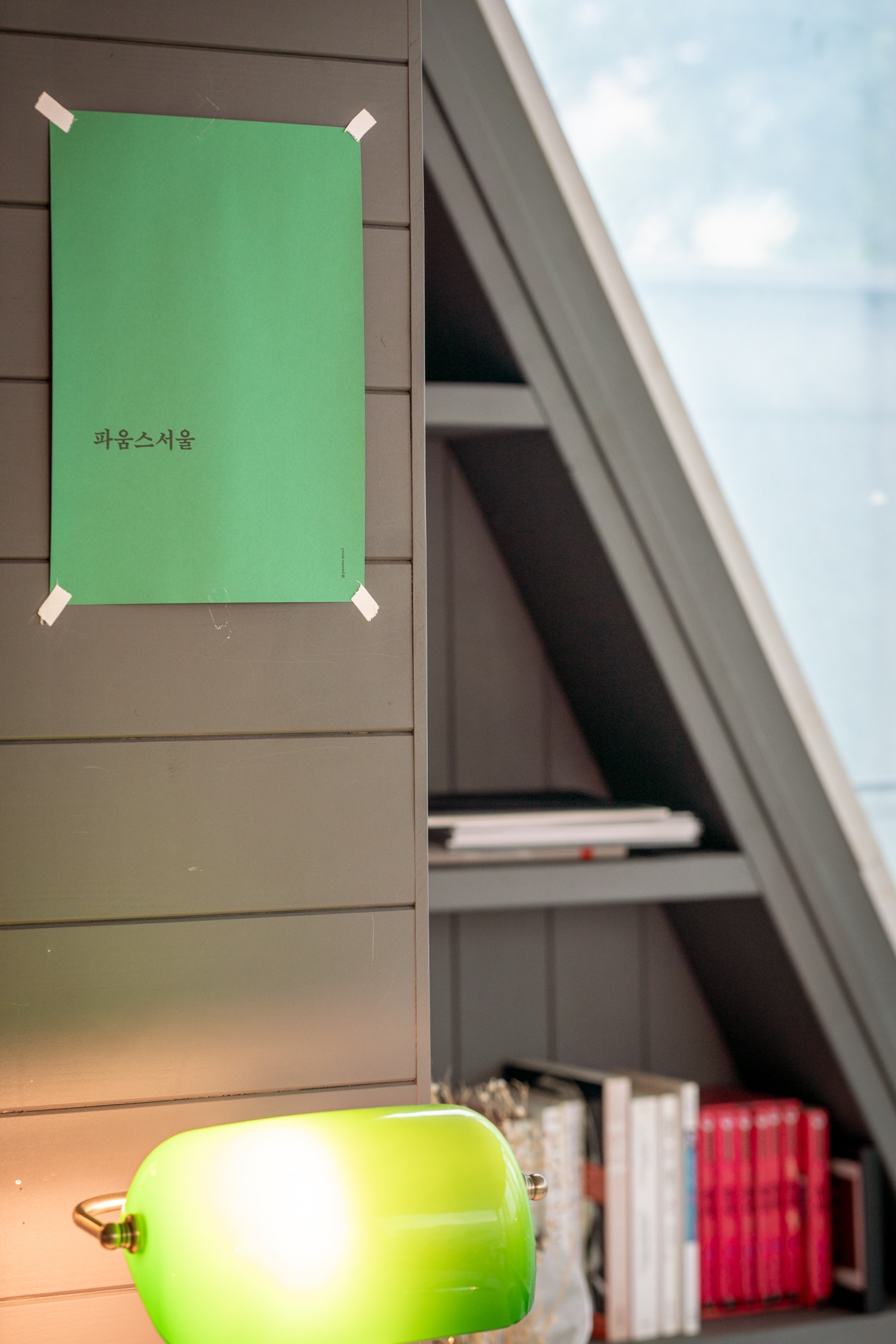 Initially, I used it as a studio. In general, I am a fan of comfort and luxury. I like things that are comfortable but not too cheap. In my mind, I consider the arrangement of the table every day, but there is also a calculation, like a sense of distance.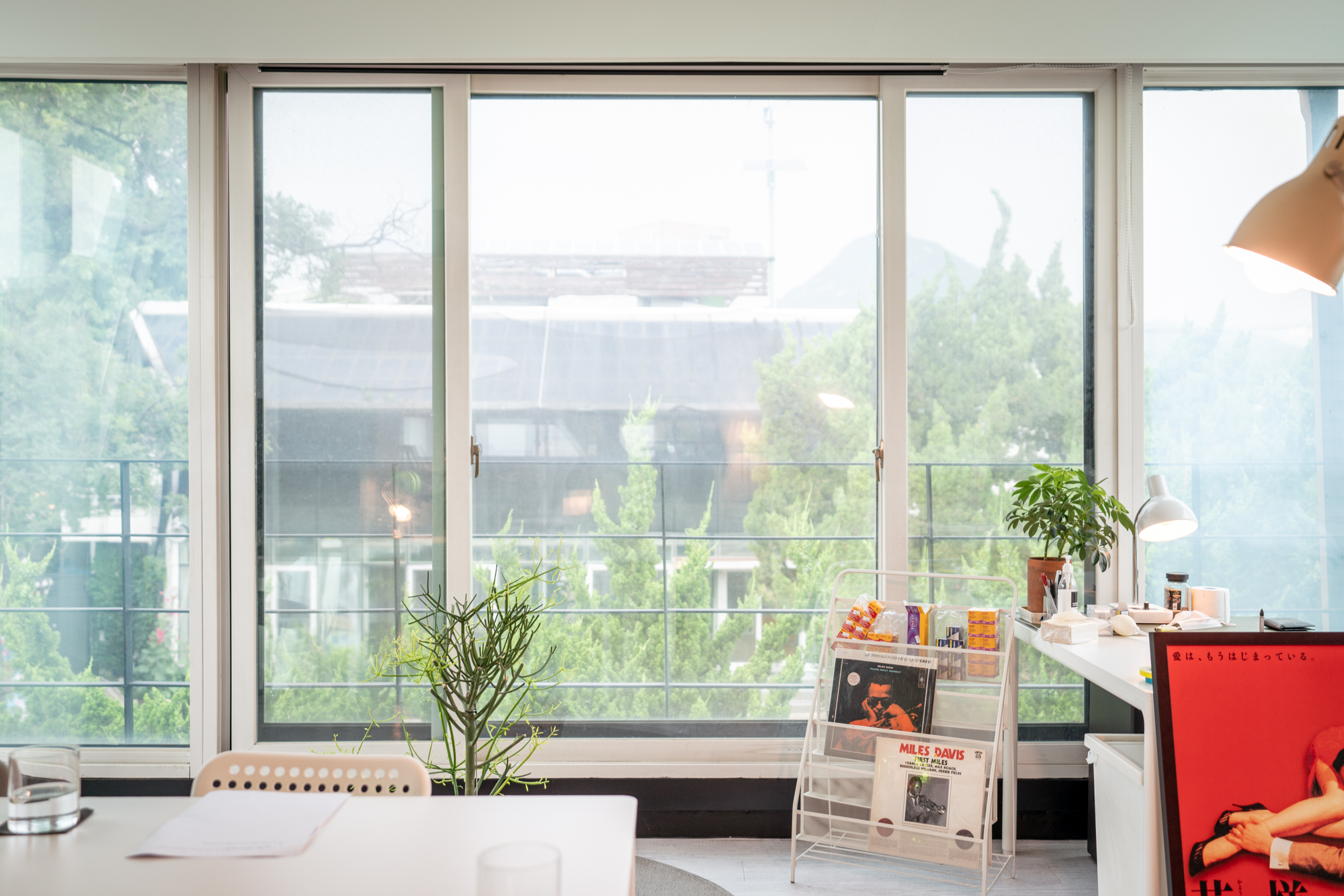 I see. I assume that you spend most of your time in Seochon when you take a break?
Yes, I believe it is pretty much so. I enjoy walking along the stone wall road of Gyeongbokgung Palace or taking a walk along the Inwangsan Skyway. I used to manage a soccer team and I enjoy being active. You will be able to see me jogging around in Seochon as I have recently taken up jogging.
<Chapter4. Completing the interview>
What kind of space do you want to run Paums Seoul in the future?
Meetings and planning movies are always on my agenda. Perhaps there will be a screening, a performance book concert, etc., but it will be difficult to say with certainty during the pandemic. At the end of the day, we are trying to create a free, cinematic, and comfortable atmosphere.
In six months, we will be able to accomplish it in some form. We are currently in the search stage. We look forward to performing and screening in six months. There are still a few things I have not done, but I am looking forward to the future.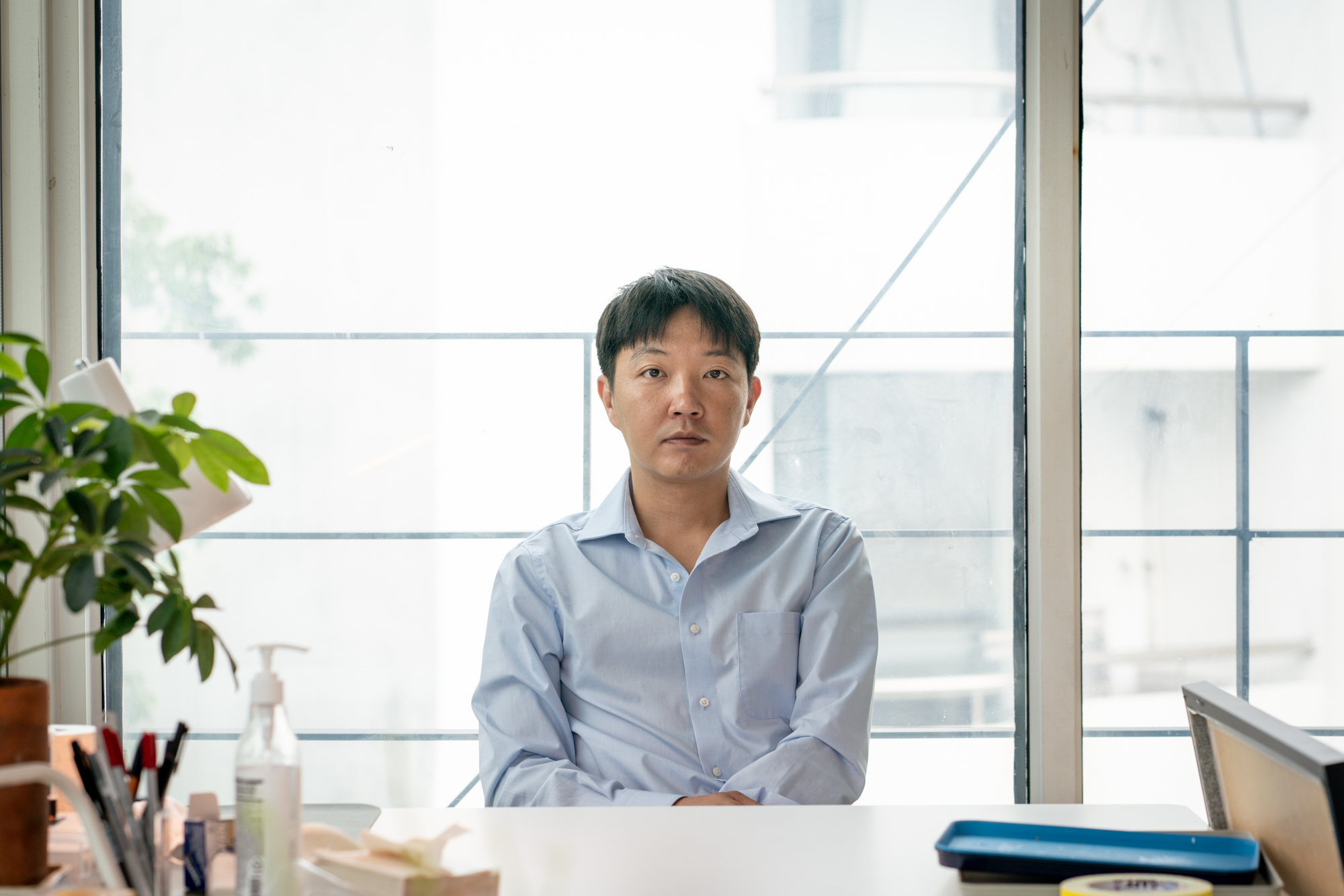 As I was returning from the interview, I suddenly thought that Seochon and the movie seemed to be in contact for some reason. People may be seeking Seochon in order to experience cinematic scenery and emotions. It will not simply be a nostalgic image like an old alleyway. With that in mind, the summer sky, which has become mature, is exceptionally clear. It seems to me that I know a little about the "movie things" that Paums Seoul wishes to convey.
INTERVIEW DATE / 2021. 06. 29
INTERVIEWEE / @paums.seoul
INTERVIEWER / Wan
Edited by | SEOCHONYOOHEE Photo by | SEOCHONYOOHEE
© YOOHEE.SEOCHON
Text and photos in this post may not be used without permission. For requests and questions about utilizing content, please contact yoohee.seochon@gmail.com.